!! REMINDER !!
Official communication will be done over the forum -

not in game

. Check your Private Messages.
Administrator

Posts: 3220
Joined: April 6th, 2015, 6:20 am
TWITTER GIVEAWAY
Winner: @silvertongue0
[/align]
[attachment=0]silvertongue0.png[/attachment]
Giveaway #1: http://www.wowhead.com/npc=59020/eye-of-the-legion
[/b]
https://twitter.com/A3pets/status/618080038907416580
[/b]
[col]
Do you need a
http://www.wowhead.com/npc=59020/eye-of-the-legion
? Wakamaru has pulled one from her personal stash to giveaway over twitter!
How do you participate?
1. Go to the
Official A3 Twitter
2. Follow A3pets
3. Locate the giveaway tweet
HERE
4. ReTweet the giveaway tweet
That's it!

The deadline is July 17th at Midnight EST
For those of you who would prefer to own the physical card and scratch it yourself - you are more than welcome to claim the prize to do so. You will however need to provide Wakamaru with your mailed address. Otherwise Wakamaru will scratch the card, redeem the code, an trade/mail the pet to its winner.|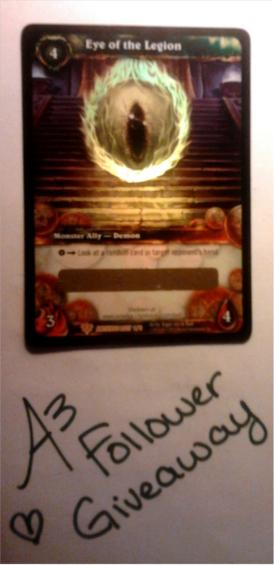 A Twitter account is required to participate in this giveaway.


Disclaimer


This giveaway is for all of our Twitter followers, not solely A3 members, as it is intended to encourage views and traffic for the agency. Personal stock is used to fund these giveaways - never guild stock.
[/col]
You do not have the required permissions to view the files attached to this post.
......

Community Leader
Team Member

Adoption Forum Management
Adoptions: Inventory
Community Manager/Leader
Event Creation/Management
Pawprint Press Contributor
Reading With Leashes Contributor / Admin
Site Admin
Social Media Manager
---
Member

Posts: 19
Joined: April 19th, 2015, 4:54 am
So awesome! This is one I never thought I'd have a chance to get so I put it on my 'excluded' list on Warcraft Pets.com
Yesterday was my birthday so I'm crossing my fingers for some birthday luck on this one!
I followed and re-tweeted, my Twitter account is @GypsyNukuchan (in case that is needed)
So excited!
---